COSMAN Medical Lesion Generators And Pain Treatment Kits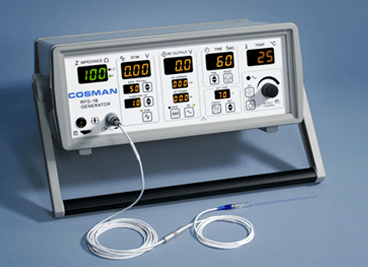 History: Radionics company founded in 1938 by Bernard J. COSMAN and in 1952 produced the first commercial lesion generator. Radionics company from 1970 until 2000 directed by Prof.Eric R. COSMAN. RFG model was produced between these dates,with dozens of experts are used by thousands all over the world today. Radionics is a family-owned company was sold in 2000.

Cosman Medical Inc; The company was founded himself and his father by Prof.Cosman and the aim is to continue the work of the pioneer in the RF technology. Prof.Cosman and with him technical team has developed RFG-1B RF lesion generators and electrodes used in pain therapy. 
| | |
| --- | --- |
| RFG-1A | RFG-1B |
| | |
  Catalog (PDF)
TEW Trigeminal Neuralgia Kit

  Catalog (PDF)
  Catalog (PDF)
LCE Cordotomy Electrode Kit
  Catalog (PDF)
  Catalog (PDF)